egglog

in Python#
In this talk I will try to cover how egglog in Python can:
Enable decentralized collaboration in the Python data science ecosystem.

Provide a faithful authoring environment for egglog.
Saul Shanabrook @ EGRAPHS Workshop - PLDI '23
Open Source Data Science Ecosystem in Python#
The term "ecosystem" is often used to describe the modern open-source scientific software. In biology, the term "ecosystem" is defined as a biological community of interacting organisms and their physical environment. Modern open-source scientific software development occurs in a similarly interconnected and interoperable fashion.
from Jupyter Meets the Earth: Ecosystem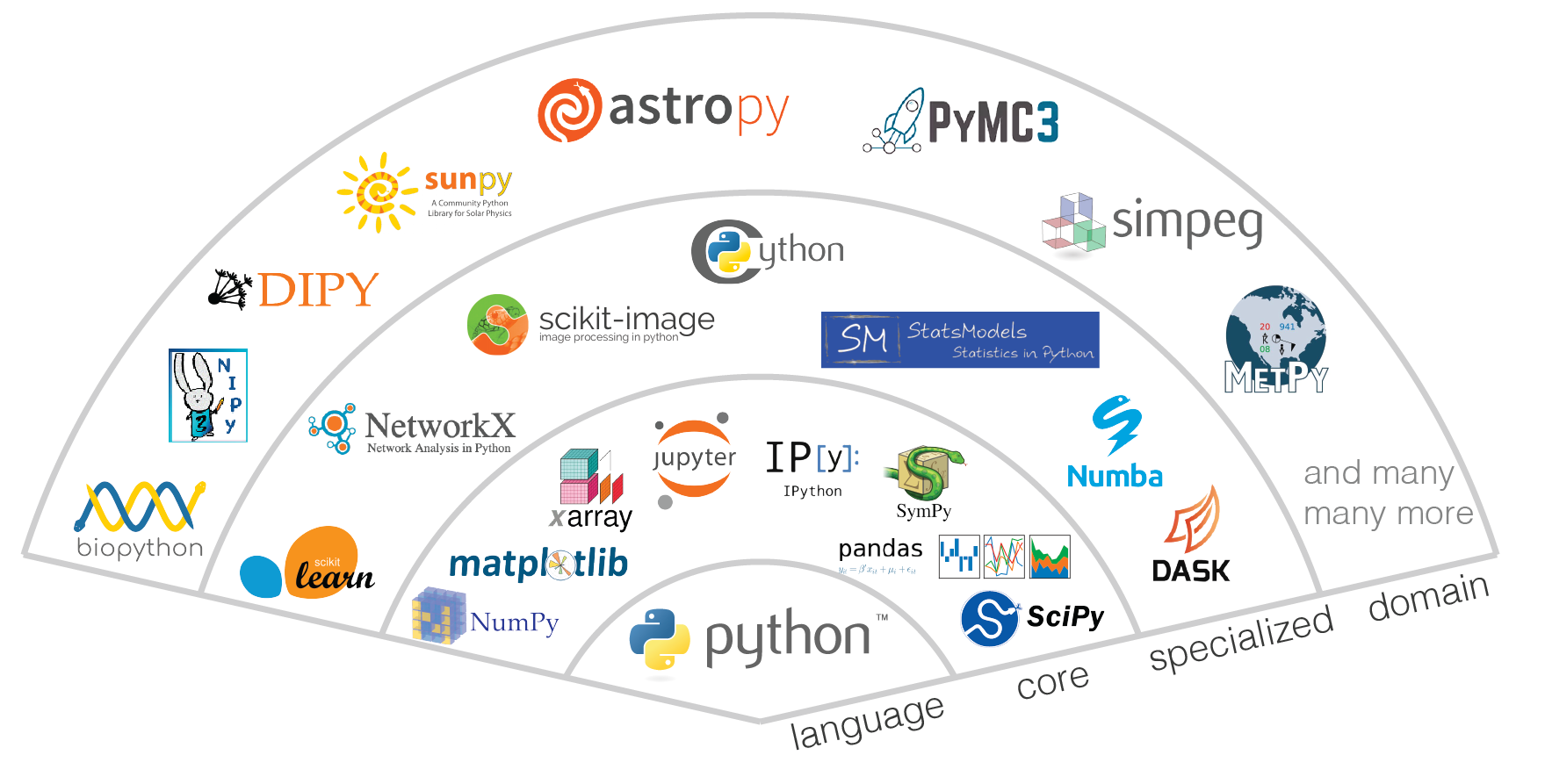 Aims#
How can the tools we build foster greater resiliancy, collaboration, and interdependence in this ecosystem?


How can they help it stay flexible enough to adapt to the changing computational landscape to empower users and authors?
What role could

egglog

play?#
Bring the PL community closer to this space, providing theoretical frameworks for thinking about composition and language.

Constrained type system could support decentralized interopability and composition between data science libraries.
from

 

__future__

 

import

 

annotations




from

 

egglog

 

import

 

*



Other Python EGraph Libraries#
TODO: Put this first, Say it's for library authors
Semantics of python and egglog
Started with snake-egg

Didn't want to re-invent the wheel, stay abreast of recent developments and research

Second piece that interests me

Unlike egg there are some builtin sorts, and can build user defined sorts on top of those

No host language conditions or data structures

Helps with optimization, more constrained

-> De-centers algorithms based on value, move to based on type. Everything becomes an interface.

Social dynamics, goal is ability to inovate and experiment, while still supporting existing use cases

New dataframe library comes out, supporting custom hardware. How dow we use it without rewriting code?

How do we have healthy ecosystem within these tools? Power

If it's too hard, encourages centralized monopolistic actors to step in provide one stop shop solutions for users.

Active problem in the community, with things like trying to standardize on interop.

Before getting too abstract, let's go to an example
A story about Arrays#
This is one path through a huge maze of use cases.

Does not represent one killer example, but is an area I am familar with based on my previous work
How does it work?#
Will show how some examples translate
Possible next steps?#
Try getting toehold in existing library (like Ibis) to see if constrained egglog approach can still be useful.

Add support for Python objects as builtin sort.

Upstream egglog improvements which could help with reuse

First class functions (would help with implementing things like reductions, mapping)

User defined generic sorts (i.e. an array type agnostic to inner values)